Simula is raising institutional capital for the mass production of our headsets. We're also soliciting angel investors who might be interested in alpha testing our Review Unit headsets (helping us form a bridge to our institutional round). More details on this below.
---
First though, we wanted to provide some reactions to Apple's latest headset announcement. It was a pretty important moment for VR computing, and some might be wondering how Apple's headset trajectory compares to our own.

1 Apple's headset looks pretty awesome, and has helped validate market enthusiasm for VR computing
First things first: we think the overwhelmingly positive fanfare around the recent Apple Vision Pro announcement has helped validate an enthusiasm for VR computing. This rises the tide for the whole industry.
Building on this enthusiasm, we'd like to offer some of the things we really liked about Apple's latest headset release:
"Spatial computing" focus vs. gaming focus. Apple has put their right foot forward in branding their device more as a "Spatial Computer" than as a gaming console, and many of the design choices they made for the headset seem to back this up.

Spatial computing means "more space". Apple signified that one of the primary benefits of VR lies in its ability to simply give users more space to consume and manipulate information. Due to both pixel density bottlenecks and an industry focus on VR gaming, consumers still don't have a viable headset to get this basic sort of benefit, even though it's been more than 10 years (!) since the release of the first Oculus. We think this is a super underrated way that VR will be immediately useful to people when VR computing goes mainstream.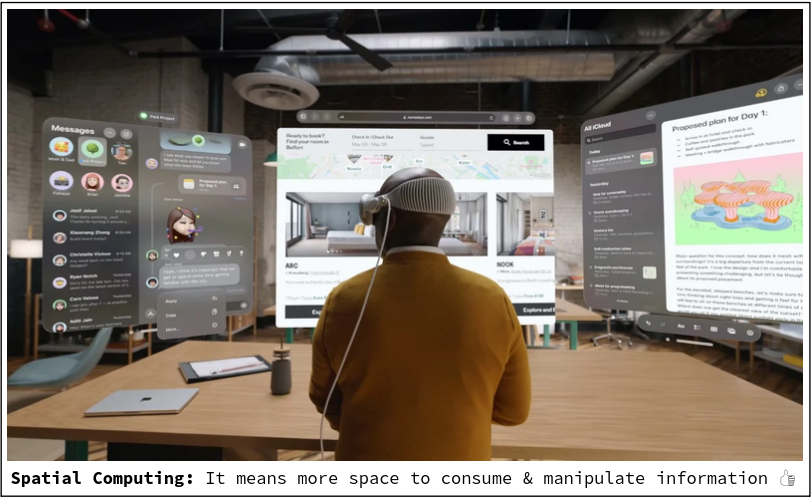 Apple's input interface is better optimized for work than existing gaming headsets.

No controllers. Apple seems to have completely ditched controller inputs for its Vision Pro, which is good since VR controllers don't usually make for very productive work interfaces (something we similarly noticed in early iterations of our VR compositor, which supported VR controllers that nobody actually used in practice over keyboards).
Eye gaze inputs. Apple has instead opted to lean more heavily into eye gaze inputs, which makes for the best input interface in our opinion. Using our eyes to click icons and manipulate windows is simply a more intuitive and frictionless way to navigate than using a VR controller or even a PC mouse.

Superb Apple polish Finally, Apple's polished UX, including transparent windows and a sophisticated AR passthrough mode, is also pretty damn cool. (For comparison, we've been working on our own AR Mode since last year, though it doesn't support the shadow and light recasting that Apple's AR Mode seems to). Overall, there's simply no doubt that Apple is bringing something very polished to market!
1.1 Some Apple critiques
Ok, but we do have a couple of Apple critiques as well :)
Critique #1: Apple included almost no hard specs on the headset's visual capabilities (PPD or FOV). We believe that PPD is the most important hardware metric of any VR computing device: it basically tells you how crisply and clearly text is going to render. Likewise FOV is super important as well.

Unfortunately, all Apple gave us was "23 million pixels across both displays", which isn't enough to compute PPD (or FOV). To be fair, we assume their pixel density is going to be pretty good (23 million pixels is definitely a lot to work with), but concrete specs would have been nice for telling us how their headset compares with what's currently on the market. (For reference, here is a list of all known Vision Pro specs).

Critique #2: The Vision Pro seems to be built on top of Apple's iPad/iPhone ecosystem, which could hinder it from becoming a true PC/laptop replacement. The Apple ecosystem can be roughly divided into two categories: macOS and iOS1. The former is for serious desktop and laptop computing, while the latter is for iPhones & iPads. Judging by Apple's presentation, it seems their headset's "VisionOS" is built more over their iOS ecosystem than it is their macOS ecosystem (at least for 2D apps anyway). Here's a quote from the presentation:

The same frameworks available in iPadOS and iOS are also included in visionOS. This means hundreds of thousands of iPad and iPhone apps will be available on Vision Pro at launch. So you can use apps like Adobe Lightroom on a massive screen and easily control these apps with just your eyes and hands. -- Apple announcement

While a premium VR headset built over iOS apps is a step in the right direction, we worry it could seriously hinder the device's ability to serve as a true laptop replacement. This is because the iPhone/iPad iOS is more driven towards the passive consumption of information than it is maximally productive work. Many professional software applications don't have iOS versions, and a ton of little frictions – ranging from limited file system access to lack of native keyboard shortcuts – make iOS apps not nearly as productive in a working context as macOS apps. This is why very few people have managed to replace their laptops/PCs with iPad/iPhones. From our perspective, we think it's important that any app which is runnable on a top-of-shelf laptop should also be runnable in one's VR computer (since otherwise the VR computer couldn't truly be said to be replacing your laptop).

Thus, we think the utility of the Apple Vision Pro is going to hinge on how quickly it can natively support powerhouse applications from the macOS ecosystem. For all we know, Apple has plans to do just this, but there's not much evidence of this so far that we could gleam from their presentation.
1
Since 2019, Apple has technically bifurcated iOS into "iPadOS" (for iPads) and "iOS" (for iPhones), but we're lumping these cousin OSes together into one for simplicity.
2 Simula's Vision: VR which affirmatively replaces your laptop
Frankly, we don't have the resources or manpower to deliver a headset as polished as Apple's Vision Pro (at least on our first iteration, anyway :). But what we lack in resources and manpower we make up for in relentless focus: we are explicitly building headsets which are meant to 100% replace your PC/laptop as your primary working device.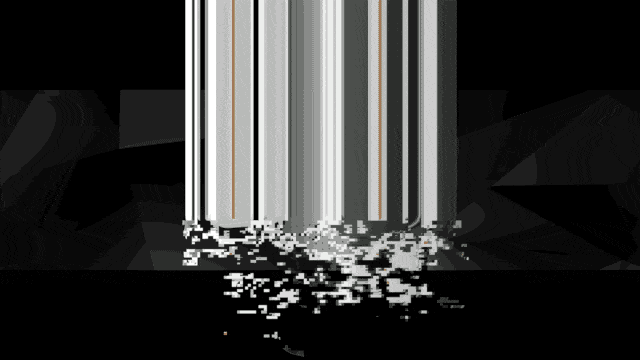 Our headsets are built over Linux Desktop, which roughly 40% of all software developers use professionally and personally.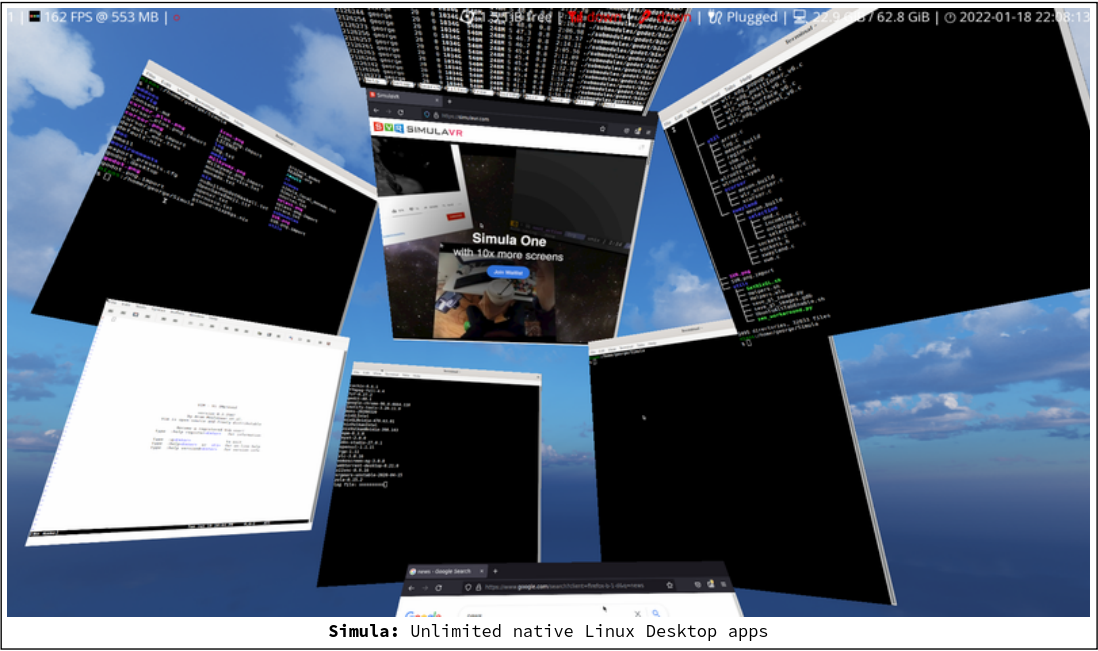 The Simula One is our first iteration towards this goal. Its selling points include:
Native VR computing (not WiFi streaming). No latency or bandwidth limitations to deal with from tethering to another host.
Insanely good text clarity. Higher pixel density (35.5 PPD) than any portable VR headset currently on the market (e.g., 56% higher than the Quest Pro & 220% higher than the Valve Index).
100% office app coverage (via Linux Desktop). Any app that runs on a premium Linux laptop runs on our headset. Your native apps are not limited to Android or iOS platforms.
Detachable compute pack. Includes specs comparable to premium office laptops (i7 12th gen processor, x86 architecture, up to 32GB of RAM).
AR Mode for touch typing. High-resolution passthrough cameras allow you to see your environment and keyboard while you compute.
Beyond this, we have ambitions to make second and third iteration headsets which significantly improve upon these capacities. In the long-term, we view ourselves as building an open VR computing platform with a laser focus on knowledge work.
Simula's thesis: While most people think the future of VR is primarily in games & entertainment, the truth is that VR offers a superior way for performing knowledge work: more screens, bigger screens, improved immersion, improved focus, more privacy, and fully portable freedom of movement. In VR you can sit up, lean back, walk or even lay down while you compute…all in a compact form factor that saves on desk space. We believe that in 10 years, nearly every office worker in the developed world will be using VR/AR to perform their work.
The recent fanfare around the Apple headset only helps confirm that this future is now closer than ever!
3 Seeking Review Unit Alpha Testers!
If you find our VR computing vision compelling, and are in a position to help us in the form of investment, let us know! We recently started soliciting angel investors to help form a bridge to our institutional round. To help sweeten the deal, we are offering investors the chance to alpha test our Simula One Review Unit, which we recently issued to a couple of testers: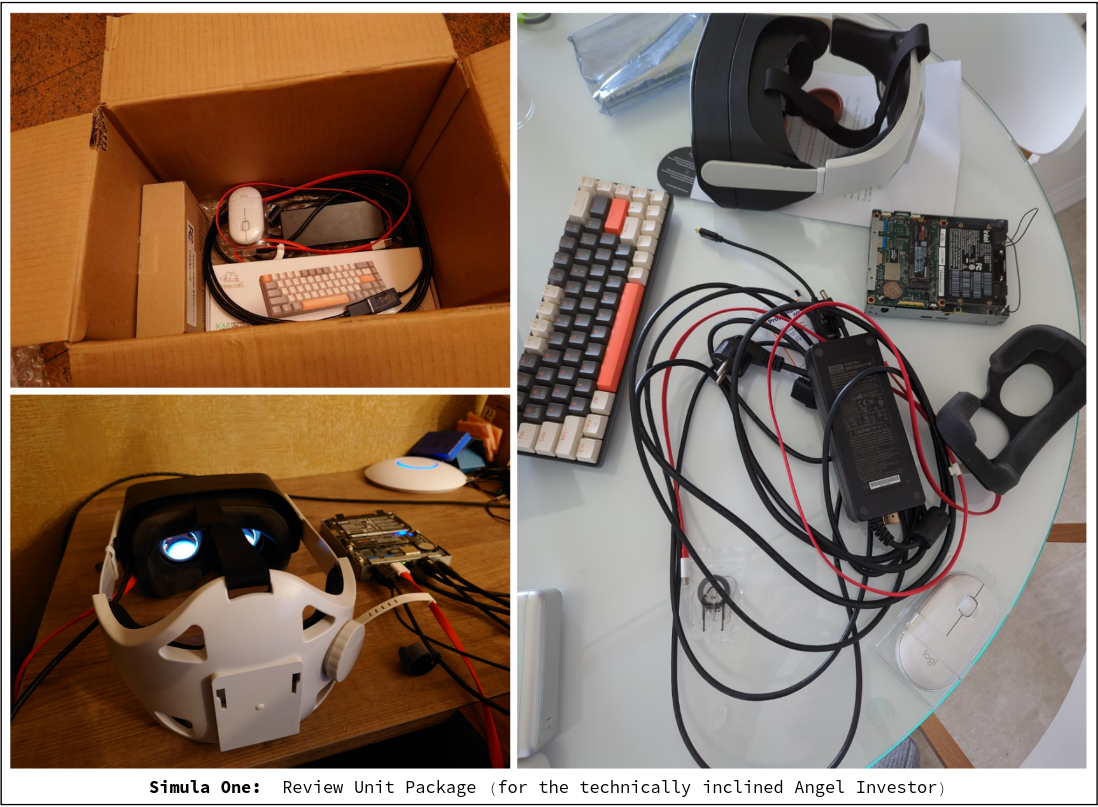 Right now we only have a single Review Unit in circulation, but we're in a position to make a few more units over the course of a few weeks if the demand is there (though these units are unfortuantely pretty expensive to make, since we're using engineering samples for parts).
Interested parties should reach out to me at georges@simulavr.com, and we'll be able to field questions/show materials. Preference for headset testing will generally be given to Simula One preorderers.
4 Seeking Venture Capital
We're also seeking a supportive institutional partner who aligns with the following key attributes:
Has a demonstrated interest in consumer hardware and/or ambitious startups
Is founder friendly
Shares a vision for ubiquitous, office-focused VR/AR with the potential to replace PCs & laptops for millions of people
To the people reading this update who have personal connections to such institutions: we'd be very grateful for warm intros 🙏.
5 How To Contact Us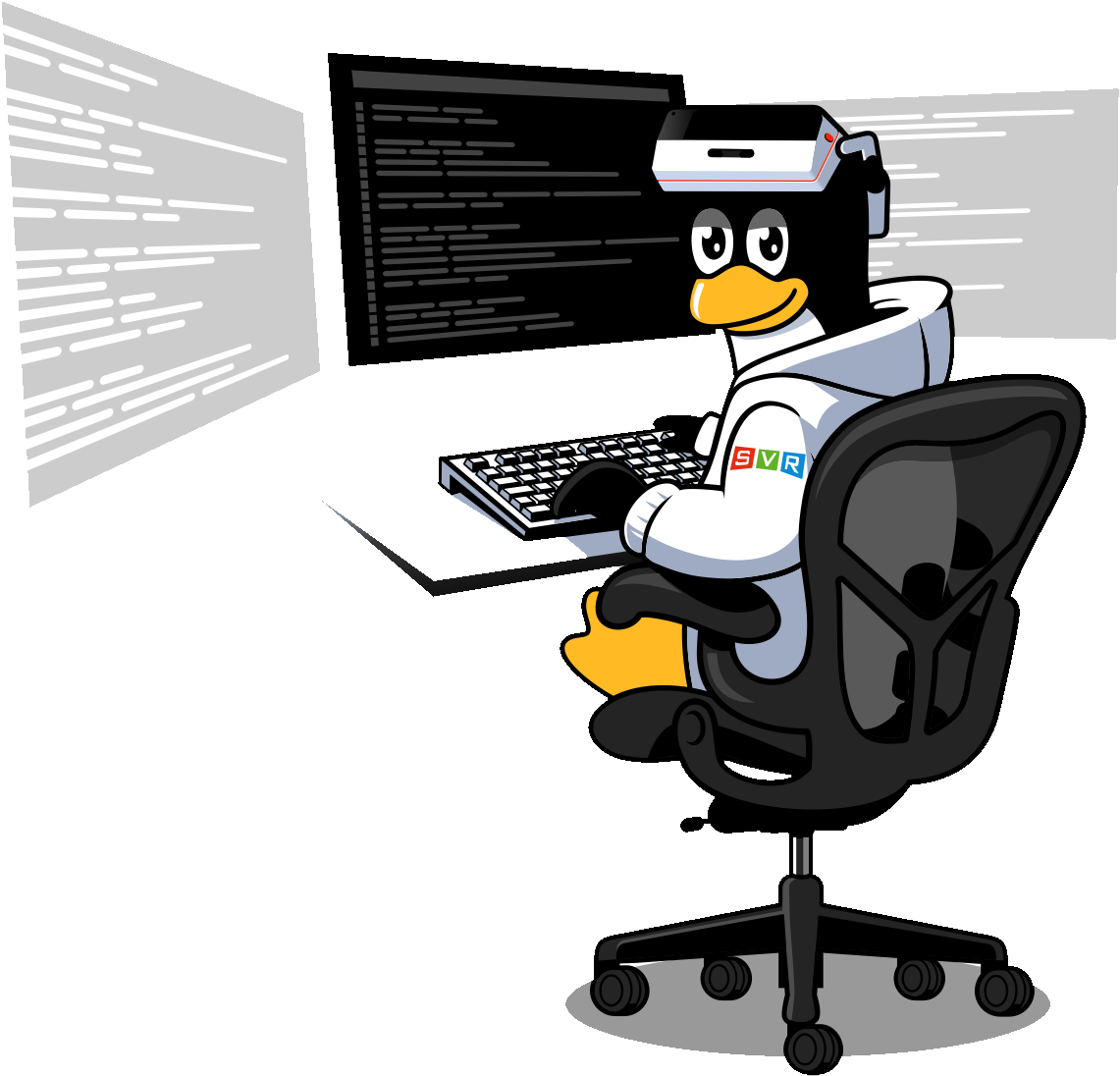 People interested in investing or helping out SimulaVR should contact me at georges@simulavr.com. We're happy to provide more materials and to field questions.