We're releasing an unpolished Review Unit ahead of schedule to an anonymous tester (address redacted), who agreed to give us some early feedback: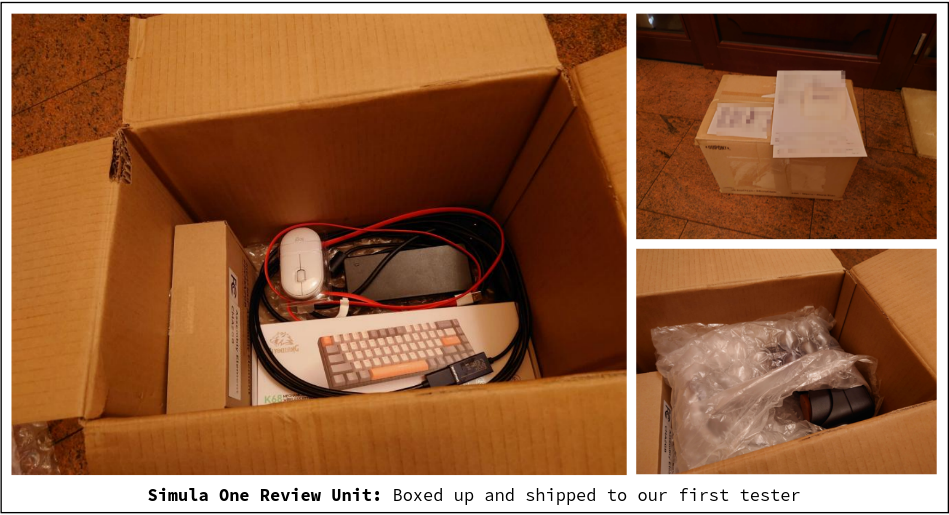 As previously disclosed, this unit lacks front-facing RGB cameras, automatic IPD adjustment, & hand tracking. Nevertheless, it showcases our displays, optics, and primary boards functioning together with our software, and we feel it's probably good to start getting some early feedback on our design and software ahead of time.
We did manage to make some minor improvements before shipping:
Bumped refresh rates up to 80 Hz. By enabling image compression from our MIPI bridge to our displays, we bumped the headset's refresh rate from 60Hz to 80Hz. We're still wrangling support from one of our vendors to enable DSC (from our Host to our MIPI bridge), which will unlock unlock a 90-120Hz refresh rate.

Fit improvements. We adjusted the Review Unit's nose bridge to improve on its comfort (still far from perfect).

Lens caps. We casted some protective lens caps for dust-free shipment:

Arch Distro with Simula. We added an installation of Arch Linux to our compute unit, and made Simula its default window manager.

Software improvements. We made some minor updates to our dev branch to accomodate the Review Unit. These include improved mouse functionality and some fixed launch bugs.

Portable Keyboard & Mouse. We also included and paired a pocket mouse and portable keyboard (both bluetooth based):

While our headset technically supports VR controllers, you only need a keyboard to operate it efficiently. (And because windows and mouse cursors can be manipulated with eye gaze, the mouse is technically optional too).
Looking forward to our first test & early feedback!