All Units Are Upgraded to Alder Lake (12th Gen Intel)
First: we'd like to confirm that all standalone units (standard Simula One + Founders Edition units) will receive the Alder Lake i7-1265U (12th Gen) processor upgrade! This is a free upgrade that doesn't require any purchase.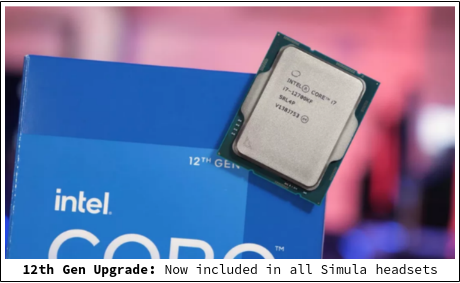 We had previously reported the processor upgrade was only confirmed for Founders Edition units, but are now officially extending the upgrade to all units. See this post for an outline of the improvements gained with Intel 12th Gen over 11th Gen.
32GB RAM Upgrade
In addition, a 32GB RAM upgrade is now available for purchase in our preorder shop for non-Founders Edition units. (Founders Edition units already have 32GB of RAM, so don't need to upgrade).
There are two ways to purchase this add-on:
If you've already preordered a Simula One: you can use this link to purchase the RAM upgrade separately. Please make sure to use the same email address & contact details when ordering this upgrade separately (so that we may pair upgrades with original headset purchases).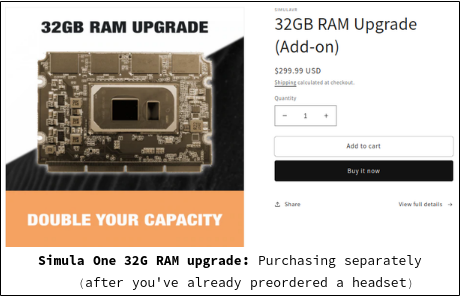 If you haven't already preordered a Simula One: you can select the 32GB RAM upgrade as an add-on during headset checkout: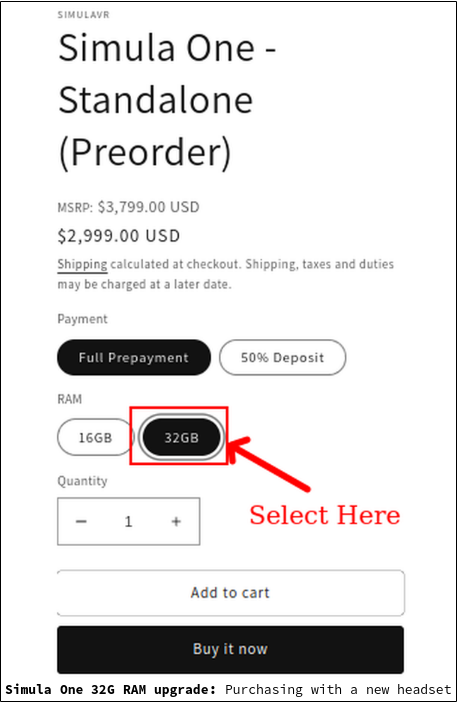 Either option works on our end. We hope some people find some value out of the extra RAM :]