The Simula One headset is a VRC ("VR Computer"). To us, VRCs are a new category of computing device (alongside PCs & laptops) which allow people to get stuff done.
When a consumer evaluates a new PC, laptop, or "VRC", it's natural to ask questions like "what are the specs?", "how is the performance?", "what's on the inside?". This post is meant to answer some of these questions for the Simula One. In short, the Simula One will offer a very capable computing experience coupled with a higher PPD display than any other portable headset on the market.
Disclaimer: Some of these design choices are still tentative. But this should give you a rough idea of where our headset is going on a technical level.
Exterior headset
In terms of adjustments, our headset is planned to support (i) IPD adjustability from 55mm-77mm (supports 95%+ of the population) and (ii) "eye relief" adjustability of between 13mm-17mm (for people who wear glasses).
Detachable compute pack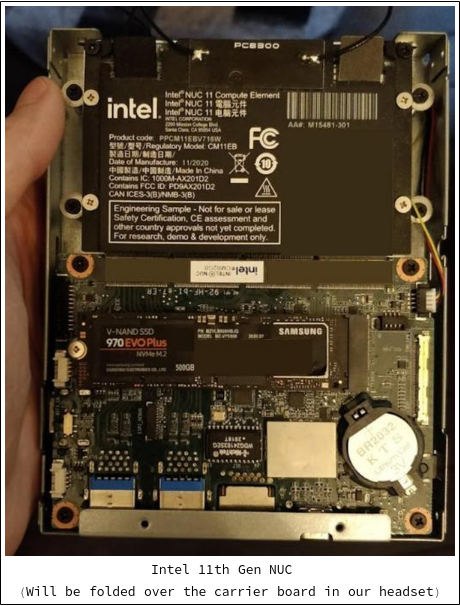 Our prototype is using an Intel 11th gen NUC as the basis for its magnetic detachable compute pack. Spec highlights:
i7 processor (4.70 GHz / 12M cache)
4 cores; 8 threads
Integrated Iris Xe graphics support
Includes integrated bluetooth and Wi-Fi 6 (Gig+)
We expect to expose 3-4 USB ports, a Thunderbolt™ port, and two external DisplayPort slots (for external monitors, if desired to be used outside of VR mode)
NOTE: There's a decent chance we will switch to 12th gen NUCs by the time the Simula One is released, but we will need to run tests (battery life, etc) and ensure availability beforehand.
Display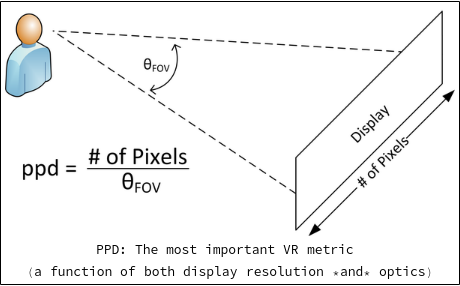 Arguably the single most important metric of a VR Computer is its display PPD ("Pixels Per Degree"), which provides a standardized way of measuring how clearly (e.g.) text and other fine details are rendered in the headset. PPD is a function of both display and optics.
For our displays, we are using two 2,448 x 2,448 high-fidelity panels (one for each eye):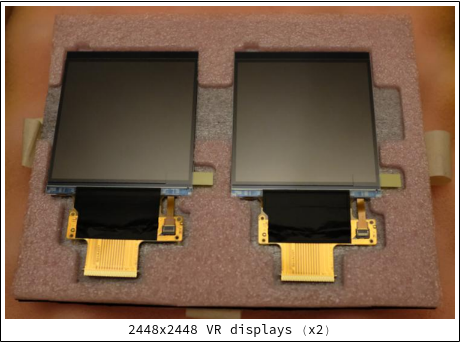 Optics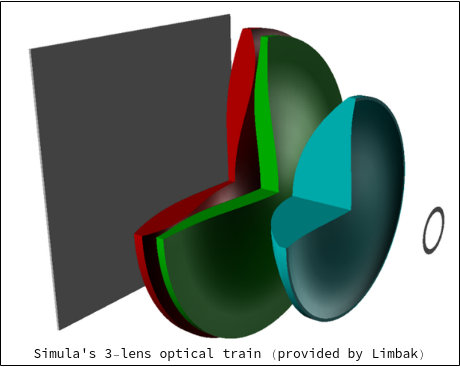 For optics, our headset will feature a custom 3-lens design which, in tandem with our displays, will provide
36.2 PPD
100 degree FoV (monocular)
For comparison, this PPD is 3.27x better than the Valve Index (11.07 PPD) and 1.76x better than a Quest 2 (20.58 PPD).[1] (Our original target was ~45 PPD, but we decided to trade off more FoV for less PPD). Bottom line: Simula's headset will offer significantly sharper text quality than existing headsets (offering higher PPD than any other portable headset on the market).
[1] https://en.wikipedia.org/wiki/Comparison_of_virtual_reality_headsets
Sensors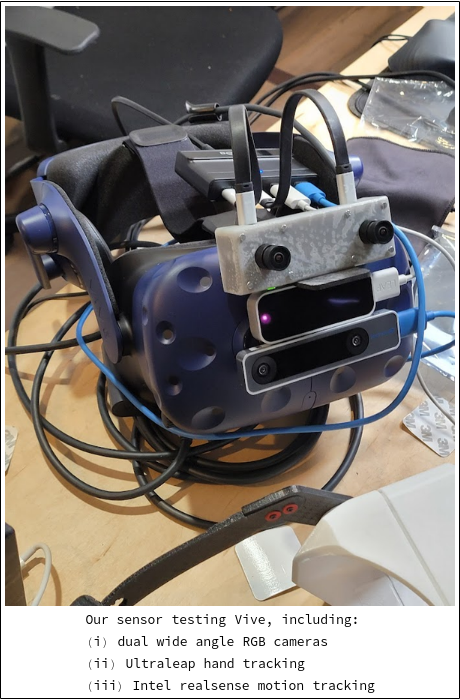 Our sensor system is not as pinned down as the other components of our headset. We've been experimenting with different approaches, and are still evaluating different vendors.
Hand tracking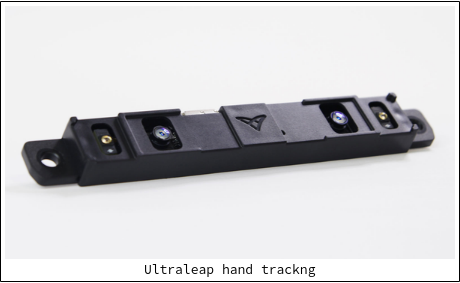 We are tentatively planning on using ultraleap for our hand tracking. For beta testing, we've been using an older "V2 SDK" (currently only available with Linux support, though this is expected to change in 2022).
Camera System (for AR Mode)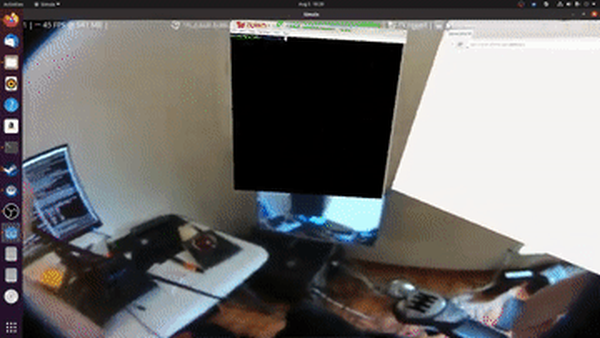 AR mode is a planned feature of our headset which allows users to see the real world while working in VR. Above is a shot of us testing a simple (pre-alpha!) Simula AR mode with a fish eye lens (distortion not corrected).
Our tentative plan is for our headset to include two high-resolution front-facing wide-angel RGB cameras. Though we have experimented with a few different camera models, we haven't picked one yet. In order to provide a good AR experience, the distance between the cameras will track user IPD ("interpupillary distance") to allow for improved stereopsis (depth perception).
Motion tracking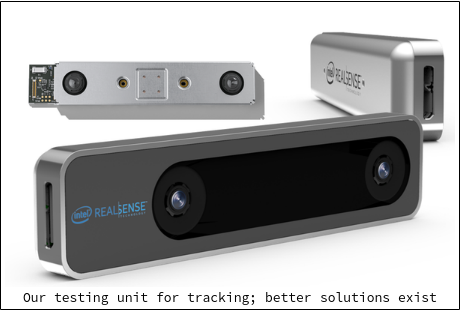 Simula's headset will require an "inside-out" tracking system for portability. We have been using an Intel RealSense module for testing purposes, but better solutions exist.
In the near term, we are aiming for a sensor fusion consisting of a high-performance IMU for stable, accurate 3DOF tracking (ex: here) and possibly one or more of:
Stereo RGB Cameras for 6DOF tracking in non-dark conditions
mmWave RADAR for 6DOF under most conditions (ex: here)
Stereo IR cameras or LIDAR are also a possibility, but research indicates mmWave is the better solution over those if the power/cost budget allows. If complexity overwhelms us, we are also considering some ready made solutions on the market.
How to help us out
If you're reasonably sure you want to purchase a headset, and you'd like to be notified an hour before the campaign starts (to maximize chances of getting early discounts), add your email to our new "Early Kickstarter Backers" list:

If you'd like to support us in other ways:
Share. Follow us on Twitter and share our campaign to your followers!
Discuss. If you have questions about our headset, you can check out /r/simulavr and our Discord.
Join. If you're interested in joining our team, send resumes over to info@simulavr.com. We will start hiring for positions in February, and are looking for talented electrical, mechanical, and software engineers.